Jeff Bingo With Jamie Corsillo, Ballboy at Delray Beach Open and Recipient of Tennis Scholarship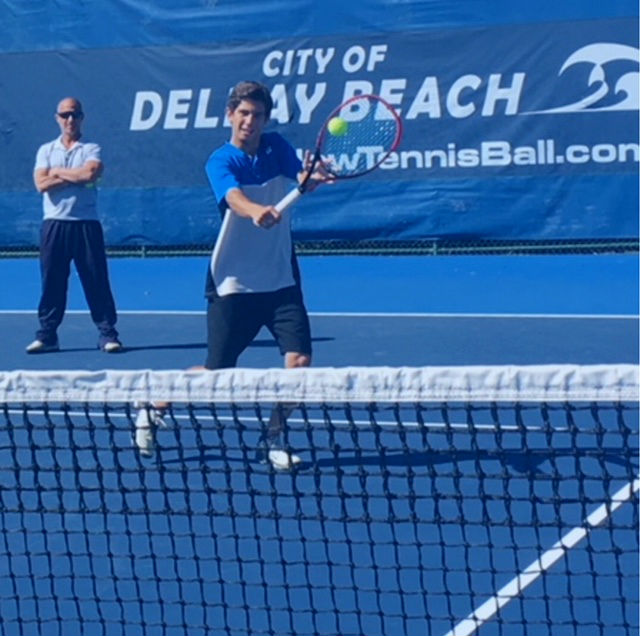 For Immediate Release: 
March 17, 2018 
Delray Beach, Florida 
Ball Boy at 2018 Delray Open receives Tennis Scholarship from Palm Beach resident and Brown University Alumni, Amin C. Koury
Youth tennis player, Jameson "Jamie" Corsillo, volunteered as Ball Boy at the 2018 Delray Beach Open, an ATP World Tour 250 tennis event, which took place on February 19-25, 2018 at the Delray Beach Tennis Center, received a tennis scholarship. 
After learning that Jamie was not only an aspiring professional tennis player but also an honor roll student and National Junior Beta Club member, Amin C. Koury, of Palm Beach, awarded him with a tennis scholarship.
"I admire his academic and athletic excellence. Jamie has a unique combination of skill, talent, and toughness. With the right support, I think he can do some really great things in life, on and off the tennis court. I wish him and his family the best of luck." stated Amin C. Koury, a former college tennis player and Brown University alumni. 
Currently a freshmen at Pine Crest School in Ft Lauderdale, Jamie Corsillo was ranked #2 in the nation in the Boys 14 & under in 2016 & 2017. He competes in tournaments throughout the U.S. and still finds time to volunteer as a ball boy.
With the support of Tennis Coach Steve Longley and mentorship of Jeff Bingo, GM of Delray Beach Tennis Center, Jamie aspires to transition into ITF-International Tennis Federation Tournaments and compete throughout the world.
Jamie's schedule consists of attending a full-time college preparatory school and trains several hours a day plus travels to junior tennis competitions throughout the U.S. 
"Jamie is unique because he maintains a traditional eight hour daily school schedule. Most players on his level are homeschooled which allows more flexibility for conditioning, training and competing." stated Tennis Coach Steve Longley.
"It is challenging to keep up with Jamies' rigorous academic, tennis & travel schedule and keep him a balanced teenager. I desire to support my sons' dream of becoming a professional tennis player while still prioritizing his academic commitments." says mother, Meredith Corsillo.
Introduced to hitting tennis balls at the age of five years old, Jamie enjoys the mental challenge of the one-on- one competition. "I am very grateful to Mr. Koury for his generous tennis scholarship which will help pay for upcoming training and competitions." 
On March 19, 2018, Jamie plans to volunteer as Ball Boy at the upcoming Miami Open. He will then travel to Indian Wells, CA to play the 16's Easter Bowl, a USTA National Level 1, and then head to Carsen, CA to compete in the International Spring Championships.  
#DelrayBeach #ATP #USTA #DelrayBeachOpen #ITF #DelrayBeachTennisCenter #Tennis #JuniorTennis #MiamiOpen #YouthTennis #Scholarship #BrownUniversity
#BrownAlumni #BrownUniversityAlumni #AminKoury #AminKouryPalmBeach #AminCKoury #PalmBeach #JamieCorsillo #JamesonCorsillo #Pinecrest
#PinecrestSchool #FtLauderdale