Welcome to Delray Beach Tennis Center
---
Membership Information
Yearly Membership Application 2020
Valid October 1, 2019 – September 30, 2020
DOWNLOAD YEARLY MEMBERSHIP APPLICATION
---
ATTENTION
ATTENTION; Due to the times we are living on now, WE ARE CLOSED AS OF NOW, MARCH 20. Both the Delray Beach Tennis Center and Delray Swim and Tennis Club will be closed to further notice. Be aware that as a consequence all the tennis and pickleball programs, lessons and clinics have been cancelled. Please be safe!
---
---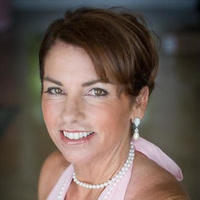 Remembering Jeanne Evert Dubin – Jeanne Evert Dubin, 62, of Delray Beach, FL passed away surrounded by loved ones on February 20, 2020 after a two-and-a-half-year battle with ovarian cancer.
One of five tennis playing children raised by renowned teaching pro and former standout player Jimmy Evert and his wife Colette, Jeanne was born October 5, 1957 in Fort Lauderdale, FL. She and her siblings attended St. Anthony's grade school and later St. Thomas Aquinas high school…
---
Fall/Spring 2019-2020 Tennis Program Schedule
---

DELRAY BEACH OPEN – CALL 561-330-6000 – The world's only ATP Champions Tour Event and ATP World Tour Event featuring tennis legends and top-ranked ATP players. Feb. 16-25, 2018. Visit YELLOW TENNIS BALL
---
Junior Spring Break Camp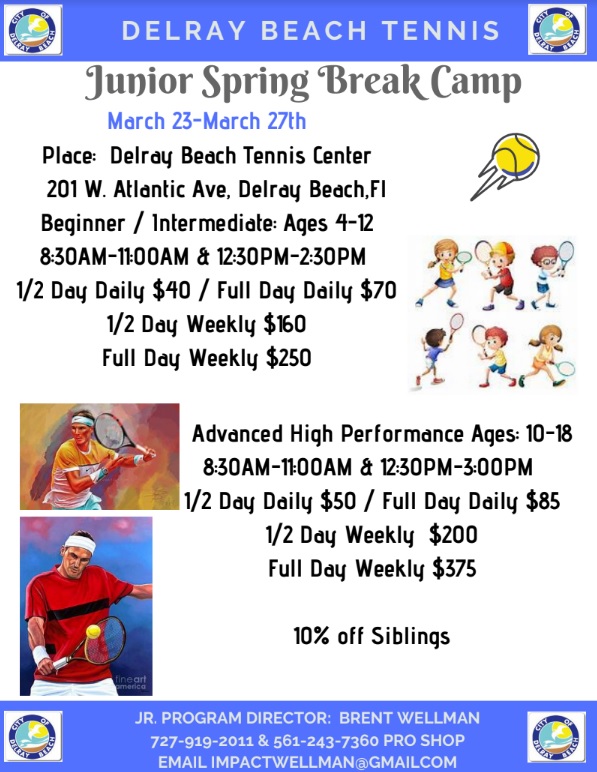 2019/2020 After School Program Schedule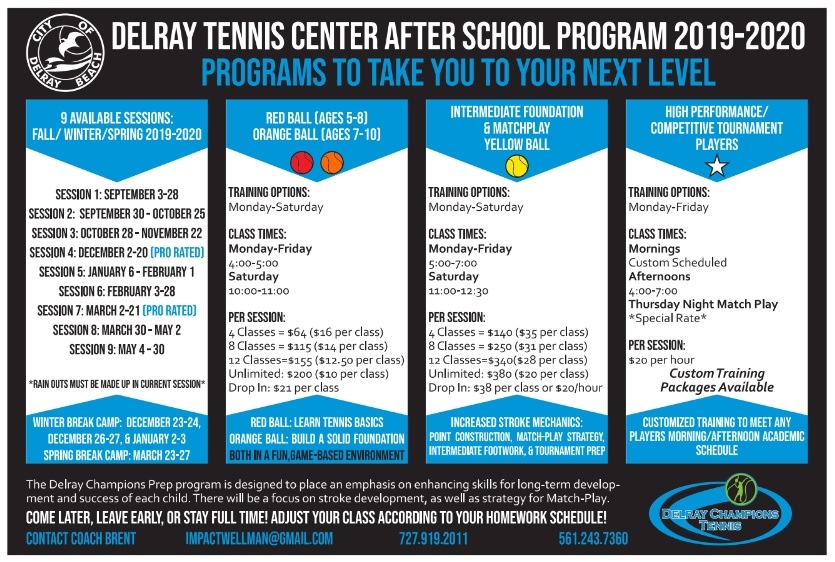 ---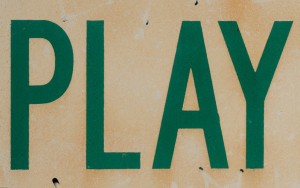 Stay up to date with our latest events… CLICK HERE!
View our PROGRAM SCHEDULE. Take a look at our SPECIAL EVENTS.
---
Our tennis pros bring dozens of years of combined experience. Whether you've just picked up a racquet or you've been playing for years, we can help you grow and improve your tennis game.
Meet our winning lineup of managers and tennis professionals at The Delray Beach Tennis Center.
---
Read our blog! Stay up to date with our latest blog posts.
---
Tennis Videos- Delray Beach Tennis Center
---
---
---