Events
While most special events are hosted by the Delray Beach Tennis Center, often we do not run the events. For information on the following events, please click on the link directly and it will take you to the tournaments main site for information on tickets, parking, schedules and results.

Delray Beach Open – CALL 561-330-6000 – The world's only ATP Champions Tour Event and ATP World Tour Event featuring tennis legends and top-ranked ATP players. Feb. 16-25, 2018. Visit Yellow Tennis Ball

Chris Evert Raymond James Pro-Celebrity Classic – Each year, well-known personalities join Chrissie for fun, fast-paced, competitive matches to raise money to help at-risk families throughout Florida. CLICK HERE

Summer Smash Sectional Championships – One of the USTA Florida's largest sanctioned events is held over two weekends; August 25–27, 2018 (Boys 12s, 14s, 16s, 18s divisions) and Sept. 1–3, 2018 (Girls 12s, 14s, 16s, 18s divisions) CALL 561.330.6003 or CLICK HERE

USTA Boys' 16 & 18 National Clays – This prestigious event, consisting of over 440 of the top-ranked Boys 18s & 16s in the U.S., is organized by Players' International Management. CALL 561.330.6003 or CLICK HERE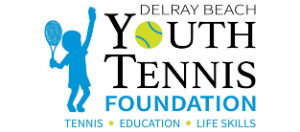 Delray Beach Youth Tennis Foundation – Our program focuses on the whole child, instilling the values of leadership, academic excellence and healthy habits – all through the game of tennis.