Managers & Instructional Staff
Jeff Bingo – General Manager of Racquet Sports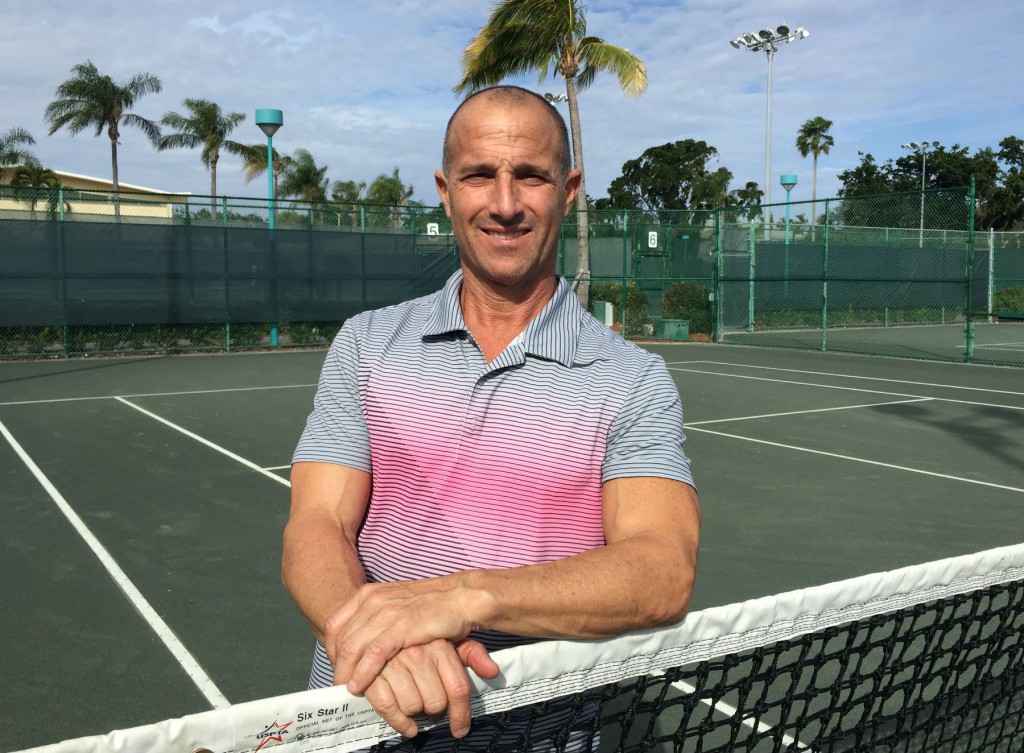 Originally from Rochester, New York, Jeff Bingo and his family moved to Boca West Country Club in 1976 so that he could pursue a career in tennis. Ever since he was 11 years old, Jeff's dream was to run, direct and to be involved in the developmental stages of a premiere Tennis Facility.
All throughout the Juniors, he maintained a Top 10 Florida State ranking and Top 20 National ranking. Jeff worked with world renowned coaches such as Brian Gottfried and the late Tim Gullikson, former coach of Pete Sampras. He attended the University of Alabama and Florida State on tennis scholarships and earned a degree in Economics.
His passion has always been teaching and coaching. Beginning in 1988, he was Head Tennis Coach for Men's and Women's Tennis at Lynn University. The women finished #2 in the country that year and won the National Championship the following year.
From 1988-1996, he also coached some of the top Florida junior players. During that time, he also built a niche for being a Doubles Strategy Specialist, teaching Ladies Doubles Strategy Camps to local ladies and men's team members for the last 23 years.
Throughout Jeff's career, he has worked at the areas top Country Clubs such as Boca West, the Boca Hotel, and many others. He has also maintained his personal game and was ranked #2 in the USPTA Men's 40 Singles and #2 UPSTA in the Men's 40 Doubles.
Among Jeff's achievements – He was responsible for developing and designing the Addison Reserve Tennis Facility and for promoting the Tennis Programs that have gained an exceptional reputation within a premier Golf Community. Jeff was the Director of Tennis at the Addison Reserve for over 16 seasons.
Jeff started the "Battle of the Pro's ", which ran for three years from 1997 to 1999, an event in which local Pros participated. He put together a Fundraiser, Sponsorship, and Silent Auction, which enabled him to donate over $100,000 to the Hospice by the Sea in memory of his mother. In 2005, Jeff co-chaired the "Love Affair with Venus Williams" tournament benefiting Cystic Fibrosis which raised more than $250,000 for the Foundation.
In addition to playing tournaments, during his spare time, Jeff loves to spend time with his children, workout and fish.
Brent Wellman – Junior Tennis Director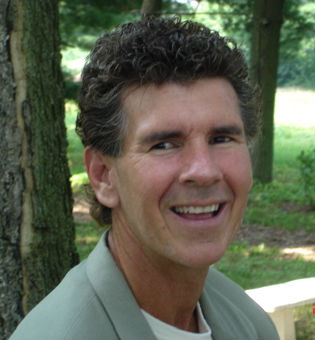 Coach Brent Wellman is the Junior Program Director and a USTA High Performance Coach. Brent Wellman is not only a Coach's coach, but a player's coach as well. Coach Wellman has the unique ability to work with all age groups, and has concentrated his passion to Educate, Enrich and Encourage (3E's).
There is a process involved in becoming a Division I player or shooting for professional ranks is a path Coach Brent knows. This "process" is Coach Brent's passion, combined with knowledge, and experience using both "Old School" and 'Modern Coaching methods. Using video analysis and college video's, Coach Brent has helped over a 100 players reach College scholarships. Coach Brent pleased to u to help players go down the serious path in a positive way!
Brent has worked with and played a successful role in the development of numerous professional athletes in both tennis and basketball. Brent has coached Division I basketball and tennis and has coached players from all over the world. Coach Wellman was the head coach at University of Central Florida, Pasco Hernando C.C. 1999-2002 and Hillsborough C..C.. 2002-2004. In 1987 named Division I, "Coach of the year," in the Sun Belt conference at UCF.
Coach Wellman worked 8 years with the Tennissmith School in Tampa directing player strength and conditioning programs and player stroke analysis. During the time with Steve Smith, Brent worked with legend Vic Braden on player development camps. In that program we're numerous college players and a few pro's that it came out including 3 ATP players, Ryler Dehart, Raven Klaasen and Austin Krajicek and Connor Smith.
Coach Brent works with Delray Competitive Program. Besides player development, Coach Brent helps players with video analysis and college prospect videos. As tournament director, Coach Wellman runs many competitive USTA junior tournaments throughout the year. Coach Brent Wellman – Kinesiology M.S. from Sam Houston State 1992; Physical Education from Indiana State 1982; Certified USPTA and ISSA Strength & Conditioning Specialist; USTA High Performance Coach.
Jeffrey Kantor – Tennis Professional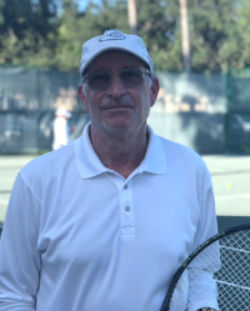 Jeff is a USPTA Certified Tennis Professional. He is a Co-Director of the Junior Tennis Program and consistently one of the top producers at the Delray Beach Tennis Center.  Jeff graduated from St. Lawrence University with a Degree in Business and Economics, where he was an All-Conference Quarterback. Shortly after college Jeff began playing competitive tennis and has played and coached ever since.
He has served as Girls and Boys Tennis Coach at The Unity School where they were both Conference Champions from 2007 – 2009. At Unity he was also an Assistant Coach for the Boys Football, Basketball and Soccer Teams.  In 2009 Jeff began teaching at the Delray Beach Tennis Center where he has shared his knowledge and experience of sports both with adults and juniors alike. Jeff is responsible for establishing the extremely popular Round Robin Mixer on both Friday Nights and Sunday and mornings. With his passion of sports and love of tennis Jeff has turned this into a great career.
Mark Williams – Tennis Professional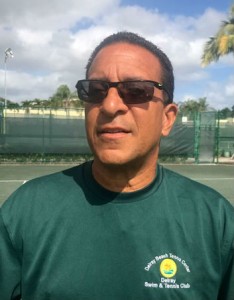 Mark is originally from Philadelphia, PA and was ranked in the state of Texas as a junior, where he won the Texas state championships in 1978. Mark has coached in the National Junior Tennis League and has done extensive tennis clinics in doubles strategy and proper stroke technique. Mark played Division I tennis at Texas Southern University. He is a Certified Teaching Professional for over 20 years and has worked at the Delray Beach Tennis Center for over 15 years teaching and coaching women's teams.
Prior to coming to the Delray Beach Tennis Center, Mark taught at Majestic Isles and Tivoli Reserve in Boynton Beach, and at two private clubs in Philadelphia: Woodford T.C. and Philadelphia T.C. Mark has won several ATA national titles in singles, mixed and men's doubles. He is also the 2010 ATA National Men's 35 singles and Men's 40 doubles champion.
Adrian Chermaci – Tennis Professional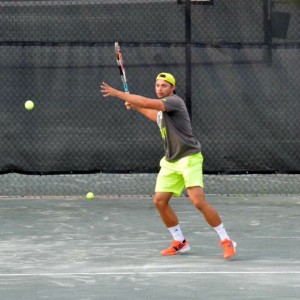 Adrian is a Wichita State graduate with a bachelor degree in Arts in Sports Management. He has a great playing and teaching resume. Adrian was part of Wichita State team winning the Missouri Valley Championship and participating in the NCAA. He is an accomplished player with plenty of tournament wins under his belt. He has won Athletic Director's Honor Roll and Intercollegiate Tennis Associate Scholar Athlete for Wichita State.
He's calm and friendly approach towards teaching make him a great asset to our teaching team. He was part of Harvard's Junior Camp Staff for two summers, teaching all levels of juniors, from quick start to high performance, as well all levels of adult classes. He also worked year round at Coleman tennis Complex at Wichita State.
Rich Benvin – Tennis Professional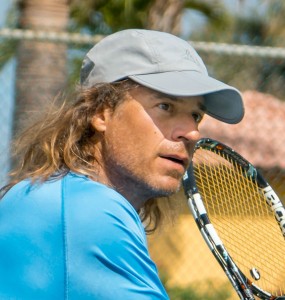 Rich is not only a USPTR Certified Tennis Professional but also a former ATP Player and WTA Coach. Rich coached Brenda Shultz-McCarthy, ranked #9 in the world in 1996. She reached the quarterfinals at Wimbledon as well as the quarterfinals in singles and the finals in doubles with Gabriela Sabatini at the U.S. Open in 1995. Rich coached Kellen Damico, the #5 world-ranked junior in 2007, Wimbledon junior doubles winner and doubles finalist at the Junior Australian Open in 2006. He also coached Julia O'Loughlin, who at the age of 12, was ranked No. 1 in the U.S. Rich helped her obtain a full scholarship with the USTA High Performance Academy in Boca Raton, FL.
For several years, Rich competed for a professional tennis team in the top leagues for the Blankenese Sports Club in Hamburg, Germany. He coached the Men's and Women's teams including Davis Cup players from Denmark. Rich was ranked #650 in the world in doubles in 1991. He was also ranked top 30 in Italy in singles and traveled as a coach and sparring partner for Claudio Pistolesi who was ranked top 100 in the world. As a college player in Division I, Rich played #2 singles and #1 doubles in 1990 for Trinity University in San Antonio, Texas. He graduated Trinity University with a B.S. in Business Administration with a Major in Marketing and Finance and a Minor in Psychology. Also, he is fluent in German and Italian.
Keith Kovach – Tennis Professional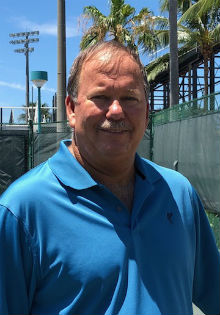 Keith Kovach came to South Florida from New Jersey and was immediately bitten by the tennis bug at age 11. He played high school and tournament tennis while working at many of the sprouting tennis facilities in the area.
After graduating from Florida Southern College with a degree in journalism, he went back into the tennis industry, as a USPTA certified teaching professional. With tennis growing exponentially, Keith was named Director of Tennis at Boca Woods Country Club. During his tenure at Boca Woods, he developed a solid reputation as an instructor, administrator, and player. Most recently Keith served the Director/Head Professional at Parkland Golf and Country Club in northwest Broward County where his reputation as a successful SPBCWTA ladies team tennis coach and manager was solidified.
Keith played the United States Professional Tennis Association Grand Prix Tour and United States Tennis Association tournaments throughout his career, earning many top ten rankings including a visit to the number 1 spot in the USPTA men's 35s doubles division in 2000. Taking a break from tennis in 2017, Keith felt the lure of Pickleball, the fastest growing game in the world. He played, traveled to pickleball hot spots, learned the game and became familiar with the people who play it. By the fall of 2017 was a certified pickleball instructor. In addition to his love for tennis, Keith is an avid sportsman with over 2500 SCUBA dives and a lifetime of fishing experience. He is a certified pickleball professional and writer of outdoor articles and fiction. He lives in Boca Raton with his daughter and their lovable rescue dog Joy. "My goal as a tennis/pickleball professional is helping my clients get the most out of their game, whether for competitive play or social games. I'm here to improve their on-court experience."