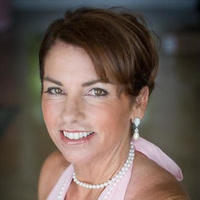 Jeanne Evert Dubin, 62, of Delray Beach, FL passed away surrounded by loved ones on February 20, 2020 after a two-and-a-half-year battle with ovarian cancer.
One of five tennis playing children raised by renowned teaching pro and former standout player Jimmy Evert and his wife Colette, Jeanne was born October 5, 1957 in Fort Lauderdale, FL. She and her siblings attended St. Anthony's grade school and later St. Thomas Aquinas high school.
Jeanne Colette Evert had an outstanding junior career. In 1969, she won both the singles and doubles titles at the U.S. National 12 Championships and was ranked No. 1 in the country in singles. In 1971, she was victorious in singles and doubles at the U.S. National 14 Championships and garnered the No. 1 singles ranking in the U.S. in the junior category. In 1972, her last year of junior competition, Jeanne was a singles finalist at the National 16 Championships and captured the doubles title.
Jeanne turned professional in August of 1973 when she was still 15. She had already made quite an impression in women's tennis, defeating established stars Rosie Casals and world-number one Margaret Court in 1972. In the summer of 1973 at 15, she was the youngest ever to represent her country in the Wightman Cup team competition between the U.S. and Great Britain. In both 1972 and 1973, she joined forces with her sister Chris Evert in doubles, and they were ranked No. 4 in the U.S. in 72' and No. 5 the following year. In 1974, she did not lose a match as the U.S. advanced to the final of the prestigious Fed Cup. During this time, she also represented the US on the Bonnie Bell Cup and Wightman Cup teams for two consecutive years.
The 1974 season was the banner year of her pro career. She was ranked No. 9 in the U.S. in 1974. She concluded her brief but productive pro career by reaching a career high at No. 28 in the world on the WTA computer in 1978, reaching the semifinals of the U.S. Clay Court Championships that summer.
While she was competing at the Rogers Cup in Montreal in 1978, she met Brahm Dubin when he was involved with the promotional aspects of the tournament. In 1979, Brahm and Jeanne wed in Fort Lauderdale, FL and later became the proud parents of Eric and Catie Dubin.
After settling down in Delray Beach, FL, Brahm founded Dubin and Associates in 1987. A golf and tennis management, development and consultation company, it later became known as the JCD Sports Group. In 1994, the company was awarded the contract to manage the Delray Beach Tennis Center. Jeanne took an active role in coaching at the Center for many years as well as running the ladies teams and assisting with management of the facility. After the death of her husband, she carried on as an active owner of the company.
In 2014, Jeanne met Tower Krauss, with whom she shared many interests. He became her loving partner until her death. The Evert family is so grateful for his presence in her life.
"Jeanne was selfless, caring and kind," said Chris Evert, her older sister. "As a sister, I admired her stellar character and her unwavering devotion to her loved ones. She fought a brave battle and now Heaven is lucky to have her."
Jeanne was predeceased by her husband in 2006 and by her father in 2015. She is survived by her partner, Tower Krauss; her mother, Colette; her son Eric (Janice Kirk) of Delray Beach, FL and daughter Catie Dubin (Matthew Aspenwall) and four grandchildren, Hailey, Savannah, Mason and Olivia Aspenwall, of Delray Beach, FL; two sisters Chris Evert of Boca Raton, FL and Clare Evert-Shane (Steven) of Aspen, CO; two brothers, Drew (Penny) of Delray Beach, FL and John (Mary) of Boca Raton, FL; nieces Anna, Lauren, Siena, Tatum and Remi and nephews Alex, Nicky and Colton.
Visitation will be Sunday, February 23 from 5:00 – 7:00 PM at Lorne and Sons, 745 NE 6th Avenue, Delray Beach, FL. A funeral Mass will be on Monday, February 24 at 10:00 AM at Saint Anthony's Church, 901 NE 2nd Street, Fort Lauderdale, FL.
In lieu of flowers, memorial contributions may be made to The Carol Kimmelman Athletic and Academic Campus. 12680 High Bluff Drive, Suite 400, San Diego, CA 92130.